Are you interested in laser hair removal but have a number of questions about how it works and how long it will last? Read the Beauty Haven need-to-know on laser hair removal so you can get summer-ready!
The benefits of laser hair removal
Laser hair removal is one of the fastest growing methods for removing hair and the most common non-invasive cosmetic surgery procedure in the UK. The treatment is practically pain free, easily available and gives long lasting results. Permanent hair reduction of up to 95%. New hair may appear over time but these will be fine hairs and will only require maintenance treatments.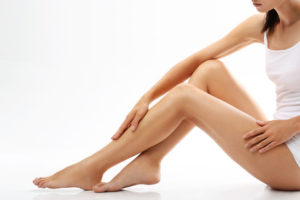 Interesting Fact ……. In a recent UK survey an estimated 1.12 million women buy hair removal products throughout their life time with an average spend of £6,500 with eight weeks out of this lifetime removing unwanted hair. I could think of better ways to spend my time.
There is a lot of pressure these days to have hair free bodies, 73% of women and 58% of men feel this. Shaving, waxing and tweezing is very time consuming and sometimes painful. Laser hair removal offers a convenient way to remove unwanted hair, with longer time in between treatments. Thus providing value for money, saving both money and time over the years.
At Beauty Haven the most popular areas that we treat using the Ellipse laser system is the legs, underarms, bikini and face. Popular areas for men are the beard, back and arms. Treatment session times are between 15 minutes and up to one hour, depending on the area being treated. There is virtually no down time, which means you can squeeze in a lunchtime treatment and go back to work. For facial areas, if your skin is prone to redness, you may wish to cover with a mineral makeup. We use Jane Iredale mineral make up which gives the best coverage and will not block pores and can be applied immediately after facials or laser treatment.
There are many benefits of laser hair removal, the treatment can work successfully on ingrown hairs, which can be a result of shaving or waxing. A rare condition known as Pili multigemini, which are several hairs in the same follicle which when they reach the surface, emerge bunched together making extraction quite difficult by ordinary methods such as tweezing because the hair is so deep rooted. Folliculitis can be associated with Pili multigemini.
In our opinion the top five benefits of laser hair removal compared with other methods include:
Eliminating the daily need to shave each day saving time.
Saving money on purchasing razors, shaving foam, creams and waxing.
Prevention and elimination of ingrown hairs.
A perfect option if you have skin sensitivity and experience the irritation of shaving and waxing products.
Last but not least, which I feel is the biggest benefit to the treatment, is that there is no need to grow hair between treatments, whereas waxing the hair needs to be 2cm in length. With laser you can shave between if necessary.
Some of the most common questions we are asked …..
Q.How many sessions will I need?
A.The hair growth cycle is different on every part of the body and the time of the growth cycles can vary from 4 to 12 weeks depending on the area. After a couple of treatments, clients typically experience a significant reduction in hair along with an overall slower growth pattern. As a rough guide, a typical course consists of 6 treatments.
Q.How do I choose the right clinic?
A. Look for a clinic that offer complimentary consultation and patch test. This is the best opportunity to ask any questions you have and your therapist can explain the treatment and the process. A patch test is mandatory to determine if you are a suitable client for the treatment. Be sure to look for a reputable establishment with many happy clients. Clinics that are registered with the RQIA will have regular inspections to ensure their safety, training and hygiene are up to scratch. In fact in Northern Ireland, it is compulsory for clinics offering laser treatments to be registered with the RQIA. Details can be found on their website.
Q.How much will it cost?
Beauty Haven is currently running two offers for laser hair removal bundles as follows:
Bundle 1. Lower Leg  laser hair removal with FREE underarm laser hair removal RRP £220 this month you pay £160.
Bundle 2. Purchase a course of six laser hair removal treatments and only pay for five treatments, and to make it even more affordable we can arrange for you to pay for your course in two instalments.
Should you wish to avail of our great offers or book your FREE consultation and patch test, call us on +44 (0)28 9066 6628.