Its that time of year again, it can be a challenge to decide on the perfect gift, its so easy to buy for children, lets face it, a letter to Santa and we have our list, a trip to the local toy shop and you are sorted but what about your other half, or your mum, dad sister etc ? Not so easy is it, there are only so many shirts or scarves you can buy !!! So ditch the slippers and mugs this year – our team at Beauty Haven have been busy sourcing some luxurious gifts, sure to earn you a few brownie points. Have a look at some of our favourites.
Keltic candles start at £8.99 for the signature candle and £14.99 for the essential oil candles. They come in a wide range of fragrances and unlike some candles I have tried, these candles really do fill the room with their gorgeous aromas. These have been a big hit over the last couple of years and do sell out quickly. Its hard to go wrong with a beautifully scented candle, its the sort of present we love to get as we often won't treat ourselves.
We recently added the Thalgo range to our extensive range of products. The Thalgo body rituals are a real treat and the products not only smell devine but leave the skin feeling wonderful. The shower foam retails at £24 and the scrub from this range is £40.
Environ Festive Skin Essentia skin kits retail at £157.95 – £163.95. These kits are gorgeous, they contain everything you need including cleanser, toner, moisturiser, eye cream, masque and 2 x travel size products to trial. I would love to find this under the Christmas tree, its beautifully packaged too. Stock is limited so if you would like to reserve one, please give us a call.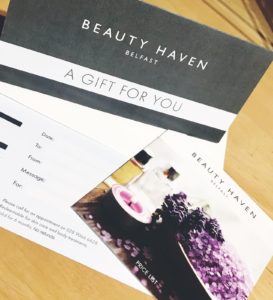 Still unsure? A gift voucher may be the answer. We have an extensive range of treatments at Beauty Haven, from manicures to body massage, facials and body wraps we have something to suit everyone. You can have a look at all our treatments online at www.beautyhavenbelfast.com and of course we would be happy to take payment over the phone and post the voucher directly to you or the recipient to make life a little bit easier.
In addition to all of this we have lots of stocking fillers including bath bombs, cuticle oils, lightbulb bubble bath, round robin lip balms to name but a few, so pop in over the festive season and have a look.
And finally once the shopping is done, sit back and enjoy a glass or two of mulled wine and maybe even a mince pie or two.