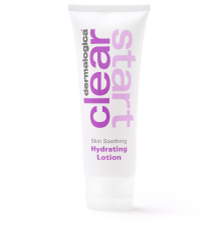 Skin Soothing Hydrating Lotion
£25.00
Say goodbye to dehydrated, breakout-irritated skin with this lightweight moisturiser! Sheer, easy-to-apply formula helps soothe discomfort and hydrate areas that feel dry. Also helps relieve the dryness often associated with some acne treatments.
Clear Start™ is tough on breakouts, gentle on your skin: potent active ingredients and naturally gentle botanicals deliver your clearest, healthiest skin ever.
Cruelty-free, gluten-free and vegan. Formulated without artificial fragrances or colours.
60 ml
How to use
Apply over entire face and neck, day and night.