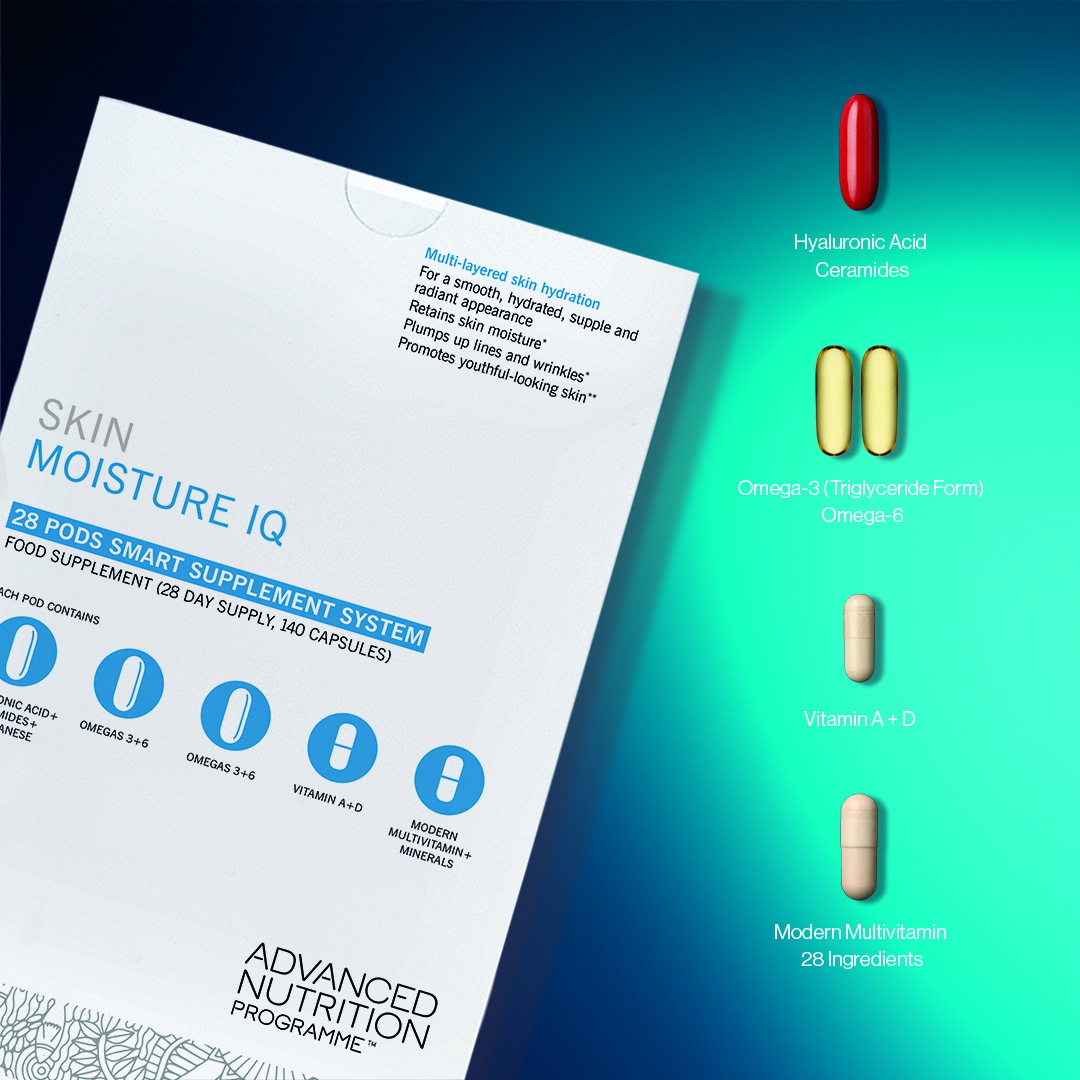 Skin Moisture IQ
£81.00
Skin Moisture IQ is a science-led, 28-day smart supplement system uniquely formulated to hydrate dry and dehydrated skin.
Carefully calibrated to support the appearance of hydrated, smooth, supple and radiant skin across the whole body, Skin Moisture IQ delivers an intensive moisture shot to skin, working from the inside out.
This 28-day system contains an expertly curated combination of five intelligent supplement capsules, skilfully combined by our skin researchers to deliver calculated doses of targeted ingredients. Featuring hyaluronic acid, ceramides, omega-3 fatty acids, omega-6 fatty acids, vitamin A, vitamin D and a modern multivitamin complex.
Key benefits:
– Multi-layered skin hydration and comfort
– For smooth, hydrated, supple and radiant skin
– Works to support the skin barrier
– Head to toe treatment, including scalp
– Promotes youthful-looking skin
– Supports skin health
Housed in convenient daily pods, the five daily capsules contain a total of 36 ingredients, specifically selected for their evidence backed benefits supporting skin hydration and overall skin health. The capsules in this smart supplement system work in synergy to deliver multi-layered skin hydration.
Each pod contains a daily dose of the following skin supplements:
– Skin Moisture Lock™ combines hyaluronic acid with ceramides in our patent-pending formula. Plumps, hydrates and supports younger looking skin from the inside out.
– Skin Omegas+ two capsules synergising omega-3 fatty acids from sustainably sourced fish oil, omega-6 fatty acids from evening primrose oil and vitamin A.
– Skin Vit A+ provides vitamin A and vitamin D. Vitamin A helps support skin cell renewal and maintain skin health.
– Skin Vitality contains vital co-factors for skin health* in a modern multivitamin comprising 28 evidence-backed ingredients. Including vitamins C, E, B2, B3, zinc and magnesium.
Suitable for all skin types seeking added hydration and radiance. Particularly recommended for those with dry skin, dehydrated skin, disturbed skin barriers and thinning skin.
Our experts recommend this product for those challenged with dry and dehydrated skin. Suitable for all skin types who experience dehydration and highly recommend usage during cold winter months to help offset the effects of seasonal change on skin.
Additionally recommended for anyone with skin frequently exposed to aggressive substances, such as hand sanitiser.
No artificial colourings or flavourings, non-GMO, gluten free.
Not suitable for vegetarians or vegans.
Pack contains 28 pods.Our skin researchers recommend to take the contents of one pop-out pod (5 capsules) daily with a meal for best absorption.
If you are under medical supervision, please consult a doctor before use. Do not take if you are pregnant, breastfeeding or planning a pregnancy, except on the advice of a doctor or antenatal clinic The product should not be used as a substitute for a varied and balanced diet and healthy lifestyle. Do not exceed the stated recommended daily intake. Keep out of the reach of children.