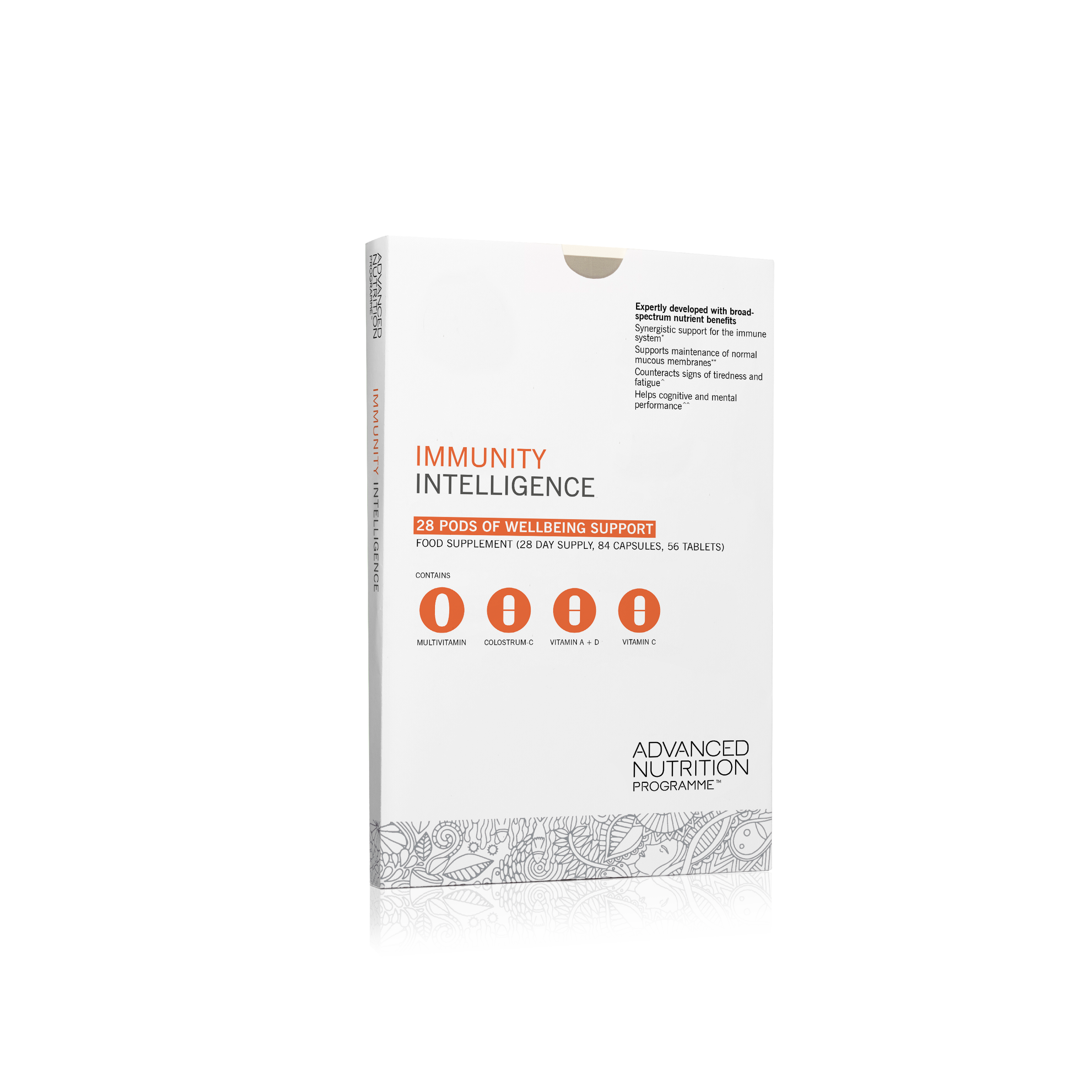 Immunity Intelligence
£67.00
Skillfully developed by our Nutritional Experts to take the guesswork out of immune support. Pristinely packaged in convenient, tear-off packs, each pod features intelligent ingredients to support overall wellbeing of the body, mind and skin to deliver daily:
– Two doses of Colostrum-C: these capsules contain Colostrum which naturally contains immunoglobulins (IgG) antibodies – these are very important for our body. Advanced Nutrition Programme™ nutritionists have synergised colostrum with vitamin C for immune support.
– One dose of Skin Vit C: this tablet fuses vitamin C with citrus bioflavonoids to support immune system and skin
– One dose of Skin Vitality 1: this multivitamin tablet is packed with over 25 vitamins and minerals including immune-supporting vitamins A, B6, B12, C, D, folate, zinc, iron, selenium as well as plant nutrients including bilberries.
– One dose of Skin Vit A+: this capsule effectively synergises together vitamin A with vitamin D. These multi-tasking ingredients provide support for the immune system*, mucous membranes, skin, vision, bones, teeth and muscles. Additionally, they partner to help bolster normal blood calcium levels and normal iron metabolism.
This succinct series of immune-supporting nutrients of vitamins A, B6, B12, C and D, as well as folate, iron, selenium and zinc are united together in daily-dose pods with five capsules and tablets.
Excellent for anyone looking for overall wellbeing support with nine ingredients focused on helping immune support.
Key benefits:
– Synergistic support for the immune system
– Supports maintenance of normal mucous membranes
– Counteracts signs of tiredness and fatigue
– Helps cognitive and mental performance
Each box provides 28 days of supplement pods. Take a wellbeing pod (3 capsules and 2 tablets) daily with food or as your health professional advises.
Do not take if you are pregnant, breastfeeding or planning a pregnancy, except on the advice of a doctor or antenatal clinic. If you are under medical supervision, please consult a doctor before use. Keep out of reach of children. This product should not be used as a substitute for a varied and balanced diet and healthy lifestyle.