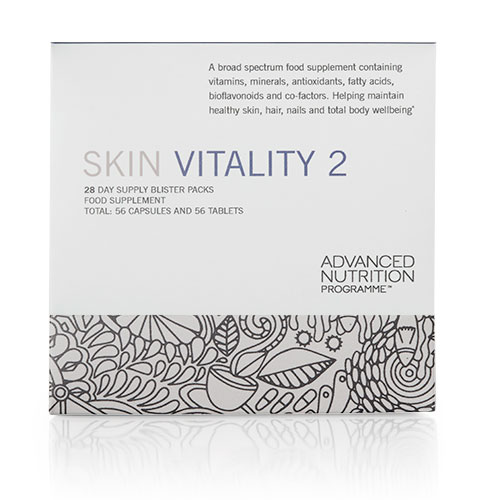 Skin Vitality 2
£45.00
Convenient daily blister strips each containing 4 supplements; a multivitamin and mineral, antioxidant complex, vitamin C with black elderberry and bilberry extracts and omega 3 and 6 fatty acids.
Broad spectrum supplement supports wellbeing.
The combination includes vitamins A & C, riboflavin and zinc for normal skin
Selenium and biotin for hair, along with selenium and zinc for nails
The advanced formulation also contains vitamin D, iron and vitamin C for the normal function of the immune system and antioxidant nutrients such as vitamin E , plus manganese to help protect cells from oxidative stress.
*Do not take if pregnant, planning a pregnancy or breastfeeding, unless on the advice of a doctor or antenatal clinic. If you are under medical supervision, please consult a doctor before use. Caution is advised with anticoagulant medication such as heparin, warfarin or coumadin.
28 Days