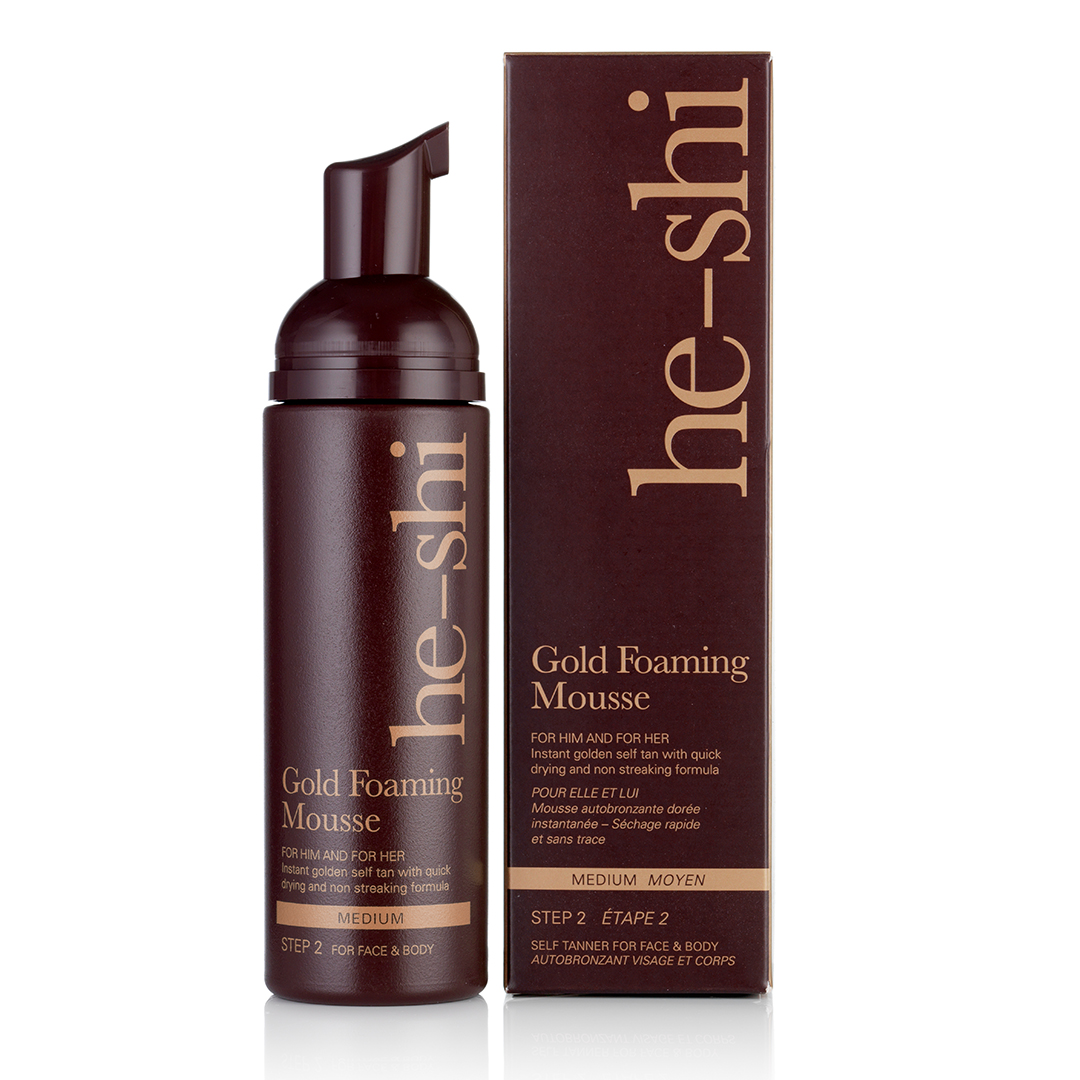 Gold Foaming Mousse
£26.00
The award winning, he-shi Gold Foaming Mousse is ideal for achieving an instant medium bronzed colour that will last up to 7-10 days. The luxurious mousse glides onto the skin and is quickly absorbed due to its incredibly light, smooth and moisturising texture. With its 'see where it goes' formula you can be confident of not developing streaks or patches. The product contains Moisture Lock Technology to hydrate and lock in moisture for long lasting tanning results. The Gold Foaming Mousse has been awarded "Best Body Self Tan" at the COSMOPOLITAN Beauty Awards.
he-shi products are vegan and cruelty free. Formulated without alcohol, parabens, palm oil, mineral oil and sulphates. Products include the highest grade of natural ingredients possible to give a natural looking flawless tan.
SKIN LOVING INGREDIENTS
98% natural ingredients
For use on face and body
Organic foaming agents that are rich in peptides and essential amino acids to nourish and condition the skin
Glycerine which is ultra-hydrating to prevent dryness and patchy wear off.
Moisture Lock Technology locks in moisture and hydrates and nourishes the skin for a longer lasting tan
DIRECTIONS
Exfoliate 24 hours before use
Apply to clean, dry, unmoisturised skin using a he-shi Tanning Mitt. Apply 1-2 pumps of the mousse to the foam side of the mitt
Glide the mitt over the skin blending the liquid in circular movements. No streaks, no patches, just 'quick and easy' tanning
Shower off after 6-8 hours
Moisturise daily to prolong and revitalise your tan